A big thank you to the members of the pinball & arcade community who sign up to bring their games to the show for everyone to enjoy! If you have games you would like to share and bring to the show, register your game to get in for free and to be entered into the free play raffle!
Some games at the show may also be for sale! Check the game information card on each pinball machine for details.
Please treat each machine respectfully. Do not place food, beverages, or any sharp-edged or heavy objects on the pinball machine or glass. This can potentially cause damage to the pinball machines that owners have painstakingly restored for your enjoyment. Abusive handling such as punching, kicking, lifting, tipping, rocking a game, or hitting the glass in any way is grounds for a warning and possible ejection from the show with no refunds.
Parents must supervise their kids at all times.
Here is the list of games that have been registered thus far. Games are normally start being registered by owners within 2-3 weeks prior to the show, and continue right up until the start of the show. Click on each column to sort the list by game title, manufacturer, year, etc. Click the game titles to view information and example photos about specific game titles.
| Game Title | Game Type | Manufacturer | Year | For Sale | Tournament Play |
| --- | --- | --- | --- | --- | --- |
| Demolition Man | Pinball | Williams | 1994 | Unknown | Available |
| Rescue 911 | Pinball | Gottlieb | 1994 | Unknown | Available |
| The Shadow | Pinball | Bally | 1994 | No | Available |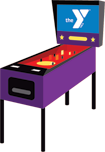 Encourage the excitement you see in younger generations; they are the next programmers, engineers, designers, artists, and entrepreneurs.
Thank you for coming to the show!