Thank you for considering to bring your games to the show! A show can't happen without the generosity of collectors sharing their games with others to enjoy.
By bringing a clean, working game to the show for free play, you will get in FREE and be entered into the Free Play Raffle!
Anyone who registers a game before midnight on Wednesday 7/26 will be eligible for the Free Play Grand Prize Raffle!
You are also welcome to offer your game for sale, if you wish to sell it.
Arcade games, bowlers, shuffle alleys, skee ball, chexx hockey, and shooting gallery games are also welcome at the show, but pinball machines are the main focus. If there is overflow, priority will be given to pinball machines and large-sized arcade games. There will be a limit of 50 games for the show this year. Flea market spaces are also available!
Register Your Game!
To help keep track of the games that will be at the show, everyone who plans to bring games is encouraged to register their game(s). Also, by registering a game, the check-in process will be easy, and a game card with the information you provided will already be printed and waiting for you at the check-in table.
A list of games that have been registered is available here.
Stuff to Bring
Don't forget your keys, legs, backbox/leg bolts, pinballs, and tools!
If you have rubber feet/footies/castors for your game, please bring them. The show floor is wood and may cause the games to slide around. Rubber pads will be provided if you do not already have rubber feet/footies/castors. Or, you can get them from Pinball Life & Marco Specialties.
What If My Game Doesn't Support Free Play?
For the games that cannot set free play in the pricing settings, either set a replay score that is very low and easily achieved and then load the game with credits, or install a stacking switch on the start button, or install a button that simulates inserting a coin or adding a credit.
On electromechanical games that have a credit unit and replay button, find the switch that opens when the credits are at zero and modify that switch so that it is always closed.
For help on how to enable or add free play options on various pinball machines, be sure to visit the free play guide on pinwiki.com
When Can I Bring My Game?
The best time to bring your games is during the designated setup time on Friday from 8AM to Noon. After that, the doors will then open to the public at Noon. Saturday will have an abbreviated setup time from 8AM to 10AM, and the doors will open to the public at 10AM.
If you are a vendor or are bringing multiple games, additional setup time can be made available on Thursday upon request. Please contact show@pinballsaratoga.com or use the contact form.
Coming early gives you the opportunity to meet and connect with other collectors who are also bringing games.
The overall show schedule is as follows:
Where Do I Load In?
Please note: this is different from previous years, since there is currently construction happening behind the building.
Games can be brought in through the front of the building, or the side entrance on the right side of the building (Child Care entrance, marked with a large yellow 14 on the door), which leads onto the show floor.
To get to the side entrance, drive along the street at the edge of the property, and enter the small traffic loop next to the right side of the building. Please note that this loop is one-way only.
The parking lot has a finished blacktop. When lowering your game to the ground, it might be best to put it down on a sheet of cardboard. Carts with small wheels and hand trucks should work fine over the blacktop and sidewalk. A hand truck or two will be available to borrow at the show.
The opening for side entrance door is 34″ wide. If you have a game/item that can't fit through the door, you can use the double doors at the front entrance.
Please note that parking space in the loop is limited, so once you have finished loading your game into the building, we would ask that you please relocate your vehicle to another area of the parking lot, in order to make room for others who are also loading in games into the building.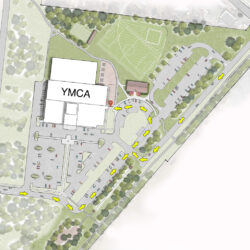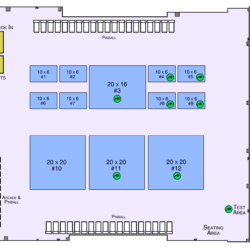 How Do I Check In?
At the loading entrance, event staff will take your name and name(s) of the games and direct you to where they can be placed. Games are placed at our discretion and may include special clusters of related games or spaced out so as not to have too many power hungry games on the same electrical circuit.
Each game will be given an identification card, where you can mark whether or not the game is for sale. Please include your phone number on the card so you can be contacted in case your game needs attention or repairs. Anyone who pre-registers a game will have an identification card already prepared and waiting for them, which makes the check-in process quick & easy.
Each day will have a different wrist band, so please be sure to visit the check-in table each day that your game is at the show.
We reserve the right to verify that the game is clean and in good working order. Games with visible wear or cosmetic issues are perfectly acceptable, as long as they are in good working order.
All games must have a 3-prong grounded power plug and must actually be grounded. Early EM games with a 2-prong plug will be evaluated on a case-by-case basis.
Additional power strips cannot be plugged into the provided strips/outlets for additional games for safety reasons and to ensure that the games on each electrical circuit can receive an adequate supply of power.  A power strip can be used temporarily for soldering or test equipment, but must be removed once the repair has been completed.
For safety, extension cords cannot cross walkways, since they can be tripping hazards.
Game Volume
The volume on electronic games will usually need to be increased while at the show. Keep in mind that a show is usually a much louder environment than a quiet game room because of the number of people in attendance and the number of games being played simultaneously. If a game's call-outs are not audible, that can greatly detract from the game play experience. Also keep in mind that a game shouldn't be loud enough to be clearly heard across the room; this can detract from the game play experience for other games nearby.
How Do I Check Out And Remove A Game?
You can remove the game after 7PM on Friday and Saturday without incurring an early-removal charge. But we strongly request that all games stay at the show for the entire event. Without games at the show, there is no show.
Before turning off your game, please contact a staff member to let them know you will be packing up, and they may take necessary steps to verify ownership and address any early removal fees (if applicable).
Once you have checked out, your game can go through the same rear doors that were used to load the game into the show.
Event break-down will happen from 8PM to 11PM on Saturday night, and 9AM to 1PM on Sunday morning. If you are unable to finish packing up on Saturday night, we will ask you to return to finish on Sunday. All games and belongings will need to be completely removed from the show floor by Sunday at 1PM.
What Is Early Removal?
If the game needs to be removed before 7PM on Friday or Saturday due to it being sold (and the new owner does not elect to leave it in the room on free play), travel constraints, etc., then a $25 early-removal fee will apply.
This fee is intended to help discourage the early removal of a game, and to help encourage game owners to keep games available for free play for the duration of the show for attendees and participants to enjoy.
A staff member will need to sign off on the early removal on the back of your game identification card once the early removal fee has been paid. Event staff may refer to the identifier card on the game and may take necessary steps to verify ownership before removal.
If a game was purchased from a vendor or flea market space, the game may be removed at any time and will not be subject to an early removal fee.
What If I Need To Remove Or Substitute A Different Game?
We understand that not everything goes as originally planned. If you know about the substitution before the day of the show, please use the game registration form to add the new game, and make a note in the comments area about which game(s) will not be coming. If it is the night before or the day of the show, just bring the game and notify the event staff of the change at check-in.
If you need to remove a game entirely, please let us know by using the Contact Us page.
Free Play Raffle Details
By bringing a clean, working game to the show for free play, you will be entered into the Free Play Raffle for a chance to win one of the available prizes!
Each game you bring will count as a raffle entry, so bringing more than one game will increase your chances of winning.
Additionally, anyone who registers a game before midnight on Wednesday 7/26 will be eligible for the Free Play Grand Prize Raffle!
Grand Prizes:
Raffle prizes include:
Moving blankets, parts storage organizers, useful hand tools, Comet Pinball LEDs, and more!
Each winner will have their choice of the available prizes. Prizes will be awarded to the person who originally registered the game.
The raffle drawing will happen just after 6PM on Saturday near the check-in table.
Game Use In A Tournament
There will be a beginner-friendly PinGolf pinball tournament at the show, which will be open to all ages, and will take place on Saturday between 10AM to 6PM.
Because this is a smaller show, there will not be a dedicated bank of pinball machines set aside for the tournament. So, there is a question on the game registration form that will ask for permission to include your game(s) in the pinball tournament, or have an option to opt out.
Games included in the tournament will remain on free play, but they may have some signage added with some tournament information, and will have roaming groups of players who will play 4-player games sporadically throughout the day.
There will need to be a minimum number of 9 games included in the tournament, although more is better in order to help spread out the tournament players.
Please see the tournament page for more details.
Show Breakdown Times
The show will have two designated breakdown periods on Saturday night and on Sunday. Games may be left overnight on Saturday, but must be removed on Sunday.
The breakdown times are Saturday from 8PM until 11PM and on Sunday from 8AM to 1PM. All games and items must be completely removed from the show space by no later than 1PM on Sunday.
Disclaimer
While it is extremely rare, please note that any damage or vandalism that might occur to your game(s) during transport to/from the show or while at the show will be your sole responsibility. Any missing items, broken parts, or component/board failures are also your sole responsibility. Neither the show staff/volunteers nor the Saratoga Regional YMCA will be held responsible for any problems or damage or your game(s).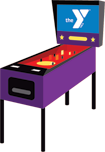 That said, please alert staff to anyone seen being rough with and/or causing damage to any games. We can assist in documenting the incident, requesting security footage, and removing the individual(s) involved if necessary.