Indoor vendor and flea market spaces will be available!
Pinball, arcade, and game room items will be welcome, including new and used games, parts, publications, or game room decor items. Vended items and advertising should be presented in a family-friendly manner.
Most spaces will be in the same room as the free play area, so your items will be highly visible to everyone visiting the show.
What Will Be There?
The flea market spaces will include:
#1: Pinball & arcade parts, 1 or 2 video arcade games.
#2: Pinball games & parts, video arcade games & parts, and jukebox parts. There will be a few project games and several games that are plug & play ready.
#3: Video arcade games & parts.
#9:  Pinball & arcade parts
#13 & 14:  Project video games, used computers, monitors, tablets, and pinball & arcade parts
#15: Comics, action figures, and other collectibles.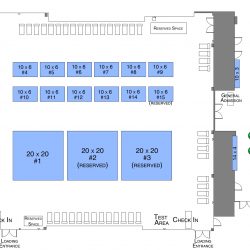 Details & Prices
The total available vendor and flea market spaces:
Three 20×20 spaces, $65 each. Sorry, all 20×20 spaces have been reserved. 10×6 spaces can be combined with a discount.

Twelve 10×6 spaces, $30 each. 10×6 spaces can also be combined in twos to form 10×16 (2 spaces), 21×6 (2 spaces), or 21×16 (4 spaces). Discounts will be applied when combining spaces.
Four hallway spaces, $25 each. Two of these spaces have electricity available. For these spaces, stand-up arcade games and items that can fit on tables only–no pinball machines or other items with a deeper footprint than a video arcade game will be allowed.
Each space will include two folding chairs. There are only ten 6ft folding tables and three 8ft folding tables currently available. Tables provided by the show are limited to one per space. If you would like one of these tables, please indicate this on registration form, otherwise it will be assumed that you will not need a table provided by the show. There is no additional charge for tables or chairs. You are welcome to bring your own tables and chairs in addition to or in lieu of what is provided by the show.
Electricity will only be available for two hallway spaces. However, there will be a designated test area provided in the show space.
Vehicles will not be permitted inside the building. However, there will be a set of double doors at the rear of the building which can be used for loading items/games into the show.
Generators are not permitted. Power cords may not cross aisles/walkways, as they may become a tripping hazard.
If a game was purchased from a vendor or flea market space, the game may be removed at any time and will not be subject to an early removal fee.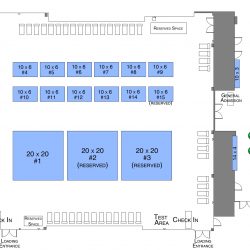 Registration
When Can I Bring My Items/Games?
The best time to bring your games/items is during the designated setup times on Friday from 7PM to 10PM, and Saturday from 8AM to 11AM. After that, the doors will then open to the public at 11AM.
The overall show schedule is as follows:
Fri, 8/11
Sat, 8/12
Sun, 8/13
7pm-10pm
8am-11am
11am-7pm
7pm-9pm
9pm-11pm
8am-12pm
Setup & Check-In
Setup & Check-In
The Show,
Early Removal Fees
Apply for Free Play
The Show,
Early Removals End
for Free Play
Breakdown
Breakdown
How Do I Check In?
Event staff will take your name, and once the fee for the space has been paid, they will direct you to where you can set up.
Where Do I Load In?
There is usually activity at the front of the building, so loading will need to happen at the rear entrance at the back of the building, which opens directly onto the show floor.
To get there, first drive to the left side of the building. Then drive past the parking spaces on the side of the building and around to the back of the building.
Note that the blacktop has an unfinished surface in this section, which means it is rough, a little uneven, and has some gravel. When lowering a game to the ground, it might be best to put it down on a sheet of cardboard or plywood. A lift cart with small will have trouble rolling on this surface, and is not recommended. However, using a hand truck will work fine, and once a game is on a hand truck, it can be brought straight in through the solid metal doors near the middle of the building. A hand truck or two will be available to borrow at the show.
The opening for the doors is 70″ wide.
Once you have finished loading your games/item into the building, we would ask that prior to setting up your space that you please relocate your vehicle to another area of the parking lot, in order to make room for others who are also loading in games/items into the rear of the building.
If you have rubber feet/footies/castors for your game, please bring them. The show floor is wood and may cause the games to slide around. Rubber pads will be provided if you do not already have rubber feet/footies/castors.
Event break-down will happen between 9PM and 11PM on Saturday night, and 8AM to noon on Sunday morning. All games/items will need to be completely removed by Sunday at noon.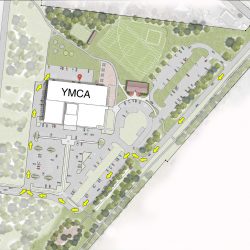 What If I Need To Cancel?
We understand that not everything goes as originally planned. If you need to back out for any reason, please let us know as soon as possible on the Contact Us page.
Disclaimer
While it is extremely rare, please note that any damage or vandalism that might occur to your items/game(s) during transport to/from the show or while at the show will be your sole responsibility. Any missing items, broken parts or component/board failures are also your sole responsibility. Neither the show staff nor the Saratoga Regional YMCA will be held responsible for any problems or damage or your items/game(s).
That said, Please alert staff to anyone seen being rough with and/or causing damage to any games/items . We can assist in documenting the incident, requesting security footage, and removing the individual(s) involved if necessary.