Do you enjoy pinball or have fond memories of playing them in arcades? Are you looking for a little relief from the hot summer sun? Are you looking for some family-friendly entertainment? Visit the Saratoga Pinball Show! It will be held at the Saratoga Regional YMCA in Saratoga Springs, NY on Saturday, August 12th between 11AM and 9PM!
The show will feature approximately 50 pinball machines from the past and present, all set on free play.  For one admission price, you are welcome to stay all day and play as much as you like for no additional cost.
The show will also feature an indoor flea market with various pinball & arcade games and parts for sale.
Once you've had your fill of flipping that silver ball, be sure to visit some of our famous local attractions, shops, and restaurants in downtown Saratoga Springs!
Proceeds from the show will benefit the Saratoga Regional YMCA, a local non-profit charity organization.


2017-07-12 11:00:00
2017-07-12 21:00:00
America/New_York
Saratoga Pinball Show
The Saratoga Pinball Show will be held on Saturday, August 12th from 11AM to 9PM at the Saratoga Regional YMCA in Saratoga Springs, NY! Visit http://pinballsaratoga.com for more details!
Saratoga Regional YMCA, 290 West Ave, Saratoga Springs, NY 12866
pinballsaratoga.com
show@pinballsaratoga.com
Saratoga-Pinball-Show-2017

---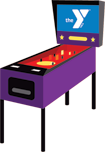 For anyone interested in participating in the show, registering a game will get you in for free! Indoor flea market spaces are available in the center of the show floor at a very reasonable price–reserve a 10×6 space today for $30–table included!