Any games set to free play will be eligible for a "Best In Show" blue ribbon award. The goal of the Best In Show awards is to recognize collectors who put so much time and effort into their games and share them with everyone at the show. A small group of volunteer judges will evaluate each game throughout the day and make the final decisions on the awards for several categories. The categories will be as follows:
Best Antique (pre-1960)
Best 60's EM
Best 70's EM
Best 70's Solid State
Best Early 80's (1980-85)
Best Late 80's (1986-89)
Best 90's
Best Modern (2000-present)
Overall Show Favorite
Judging considerations for each game may include:
Overall appeal
Overall cosmetic condition
Mechanical operation/condition
Fully functional game operation (all game features work)
Quality of restoration or refurbishment (clean, quality of touch-ups/repairs, quality of shop job)
Rarity, popularity, or historical significance (game feature firsts/lasts, prototype versions/features)
Interesting/tasteful modifications
View the judging ballot here. The descriptions and points for each category are listed.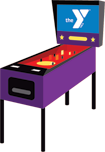 Awards will be announced on Saturday at around 4PM. Games that win awards will be awarded to the individual who originally registered the game for the show. They will also be given the opportunity to pose for a photo with their game and award, which will be posted on this website, the show's facebook page, and pinside.com.
The 2018 Best in Show winners include:
Antique: Bally Fleet Jr
60s EM: Gottlieb Hurdy Gurdy
70s EM: Sonic Mars Trek
70s Solid State: Bally Evel Knieval
Early 80s: Gottlieb Touchdown
Late 80s: Williams Comet
90s: Gottlieb World Challenge Soccer
Modern: Stern Metallica
Overall Show Favorite: American Pinball Houdini
Special Judge's Award: Sega Lost In Space (Re-Theme)