Thank you for considering to bring your costumes & props to the exhibit! An exhibit can't happen without the generosity of collectors sharing their items with others to enjoy.
By bringing an original costume or prop for display in the exhibit, you will get into the event for FREE on each day that your items are on display.
The main focus of the exhibit is original items featured in movies and TV shows, especially custom made costumes, props, and set decoration.
You are also welcome to offer your items for sale, if you wish to sell them.
If you have a significant number of items to sell, please consider any of the inexpensive flea market spaces that are available!
Acceptable Item Rules
The main focus of the exhibit is original items featured in movies and TV shows, especially custom made costumes, props, and set decoration. Any registered items will be subject to evaluation and approval prior to the event.
Generic or off-the-self items will be evaluated on a case-by-case basis for the exhibit area. They are allowed in the flea market without this evaluation.
Replica or cosplay items will be evaluated on a case-by-case basis for the exhibit area. They must be on par with professional studio quality items to be considered for the exhibit. Items that are replicas will be clearly marked as such on their placards. These items are allowed in the flea market without this evaluation.
No posters, handbills, or autographed stock photos will be allowed in the exhibit area, but they are allowed in the flea market. Scripts, production paperwork, storyboards, letters, rare behind-the-scenes photographs, etc. are allowed in the exhibit area, provided that there is a display case available for them.
No live-fire weaponry will be allowed, even if disabled by the studio/armorer. Non-firing hero/stunt weaponry is allowed, provided that it was never a live-fire prop.
Any bladed/spiked/edged/sharp weaponry must be blunted or securely locked in its own display case. The item will also need to be inspected by staff prior to being placed in the exhibit.
Please be aware that this is a family-friendly event for all ages. Items with nudity or items that are too scary, grotesque, bloody, or gory will not be allowed in either the exhibit area or the flea market. As a rule of thumb, items should be PG-13 at most. If you are unsure about your item, you are still welcome to register the item for evaluation.
Items must be free-standing. No items can be mounted or hung from the walls. If large items need to be leaned against a wall, please note this in your registration form along with the approximate size of your item, and they will be evaluated on a case-by-case basis based on the space available.
Register Your Items!
To help keep track of the items that will be at the event, everyone who plans to bring an item is encouraged to register their item(s). Also, by registering an item, the check-in process will be easy, and a placard with the information you provided will already be printed and waiting for you at the check-in table.
Please be sure to review the acceptable item rules. Any registered items will be subject to evaluation and approval prior to the event. Follow-up communication may include requests for photos of your item, a screenshot where it appears on screen (for the placard), and possibly a COA or other paperwork during the evaluation process.
With your permission, some photos may be chosen to be featured on the website or in other platforms (such as Facebook, YouTube, event listings, or email newsletters) for the promotion of the exhibit.
Exhibit Area Details
All costumes and large props will be displayed on a designated floor space roped off from the public by a distance of at least 2 feet of space with courtesy "please do not touch" signs.
Event staff & volunteers will help monitor the exhibit. If you would like to help monitor the exhibit, volunteers are welcome.
The items will be displayed in an area that is not exposed to direct sunlight.
The event space is air conditioned and maintains a stable temperature of about 70 degrees.
The event space and facility are monitored 24/7 by security cameras.
If you are displaying a costume or other large items, you will be expected to supply your own mannequins, display fixtures, and materials necessary for a free-standing display.
There may be the possibility of a display case available for smaller props, once a suitable display case has been located/obtained.
If your item needs power, electric will be available.
Stuff to Bring
Be sure to bring mannequins, display fixtures, and materials necessary for a free-standing display of your items.
If you intend to sell your items, be sure to bring any relevant documentation and/or certificates of authenticity to complete the sale.
What If I Need To Remove Or Substitute A Different Item?
We understand that not everything goes as originally planned. If you know about the substitution before the day of the event, please use the registration form to add the new item, and make a note in the comments area about which items(s) will not be coming. If it is the night before or the day of the event, just bring the item(s) and notify the event staff of the change at check-in.
If you need to remove a item entirely prior to the event, please let us know by using the Contact Us page.
Where Do I Load In?
There is usually activity at the front of the building, so loading will need to happen at the rear entrance at the back of the building, which opens directly onto the event floor.
To get there, first drive to the left side of the building. Then drive past the parking spaces on the side of the building and around to the back of the building.
Note that the blacktop has an unfinished surface in this section, which means it is rough, a little uneven, and has some gravel. When lowering anything to the ground, it might be best to put it down on a sheet of cardboard or plywood. A lift cart with small wheels will have trouble rolling on this surface, and is not recommended. However, hand trucks will work fine, and once an item is on a hand truck, it can be brought straight in through the solid metal doors near the middle of the building. A hand truck and cart will be available to borrow at the event.
The opening for the doors is 70″ wide.
Once you have finished loading your items into the building, we would ask that you please relocate your vehicle to another area of the parking lot, in order to make room for others who are also loading in games, equipment, and items into the rear of the building.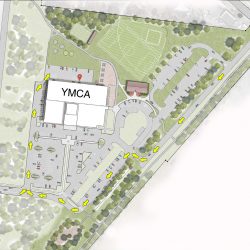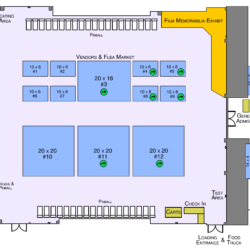 How Do I Check In?
At the loading entrance, event staff will take your name, the name(s) of the items, and they will direct you to where your items can be placed. Items will be placed somewhere within the designated exhibit area.
Each item will be given a placard, where you can mark whether or not the item is for sale. If your item is for sale, please include your phone number on the card so you can be contacted. Anyone who pre-registers an item will have a placard already prepared and waiting for them, which makes the check-in process quick & easy.
Each day will have a different wrist band, so please be sure to visit the check-in table each day that your item(s) are at the event.
How Do I Check Out And Remove My Items?
You can remove  your items after 7PM on Friday and Saturday without incurring an early-removal charge. But we strongly request that all items stay in the exhibit for the entire event. Without items displayed in the exhibit, there is no exhibit.
Before removing your items, please contact a staff member to let them know you will be packing up. They will assist with opening the roped area or display cases to retrieve your items. They may also take necessary steps to verify ownership and address any early removal fees (if applicable).
Once you have checked out, your items can go through the same rear doors that were used to load them into the event.
Event break-down will happen from 9PM to Midnight on Saturday night, and 10AM to 3PM on Sunday morning. If you are unable to finish packing up on Saturday night, we will ask you to return to finish on Sunday. All games, items, and belongings will need to be completely removed from the event floor by Sunday at 3PM.
What Is Early Removal?
If exhibit items need to be removed before 7PM on Friday or Saturday due to them being sold (and the new owner does not elect to leave it on display), travel constraints, etc., then a $15 early-removal fee will apply.
This fee is intended to help discourage the early removal of items in the exhibit, and to help encourage owners to keep items on display for the duration of the eveny for attendees and participants to enjoy.
If an item was purchased from a vendor or flea market space, the item may be removed at any time and will not be subject to an early removal fee.
Event Breakdown Times
The event will have two designated breakdown periods on Saturday night and on Sunday. Items may be left overnight on Saturday, but must be removed on Sunday.
The breakdown times are Saturday from 9PM until Midnight and on Sunday from 10AM to 3PM. All items must be completely removed from the event space by no later than 3PM on Sunday.
Disclaimer
While it is extremely rare, please note that any damage or vandalism that might occur to your items during transport to/from the event or while at the event will be your sole responsibility. Any missing items, broken parts, or electronics failures are also your sole responsibility. Neither the event staff/volunteers nor the Saratoga Regional YMCA will be held responsible for any problems or damage or your items(s). Items at the exhibit are placed there voluntarily by their owners.
That said, please alert staff to anyone seen touching, handling, and/or causing damage to any items . We can assist in documenting the incident, requesting security footage, and removing the individual(s) involved if necessary.